Hi friends!
I know, I know – it's been a while.
I have a confession. I've been cheating on you.
I've been cheating on my blogging family with my new found Fleet Feet family.
I have often expressed the love I had for a solitary run, but my recent training cycle has made me a changed runner.
The weekly long runs with my Fleet Feet training team have been fantastic. Miles fly by. And the miles that don't fly by, were met with support.
Misery loves company.
It's been more than the long runs.
Morning runs and speed workouts quickly turned into girl talk sessions with my new runny buddy Colleen.
While there are times solitary runs can be nice and jamming out to Juke Box Hero feels oh so right, a running buddy provides me with support, confidence and great memories.
I can't express what a difference this has made in my training.
No excuses – only support.
Colleen has met me at 4 a.m. – FOUR IN THE MORNING – on Fridays when I wouldn't be able to make the Saturday morning team run.
No excuses – get it done.
Even when we need to cut down a few miles on a long run to get it in, or break every few miles to stretch, having someone there to keep you going and confident is the best training tool I have discovered to date.
The guilt of a slower run is met with 'awesome job' and 'we're good, girl!'
At the end of the day, I know I have someone to ask questions to, lean on for support and meet me at 4 a.m. in the pitch black.
In a city where I know few people, I suddenly feel like I have a community thanks to my running buddy and the Fleet Feet family. The wacky conversations, the TMI, the complaints and laughs. All priceless.
Additionally, in a city where my social circle is small, and transplants aren't exactly welcome in every group (no, you don't know what high school I went to), a group of people who share the same bit of crazy, is comforting and refreshing.
Running with someone also can be a nice treat when you're in an unfamiliar city. A few weeks ago I was in NYC for work, and an old family friend reached out, asking if I wanted to meet for a run the next morning. The 3.5 sunrise run reminded me of why I love NYC so much. The sun peaked over the horizon, and the skyscraper windows reflected an amber glow, only matched by the wonderful conversation and catching up. Thanks again Soph!
To those runners hitting the pavement alone, moving to a new city, or just stuck in a rut, look into running groups. Fleet Feet offers formal training groups throughout the country, but every city has informal groups. Search Facebook – running stores – gym bulletin boards. Put yourself out there. You'll be glad you did!
And if you're not – you can always go back to running alone.
All alone.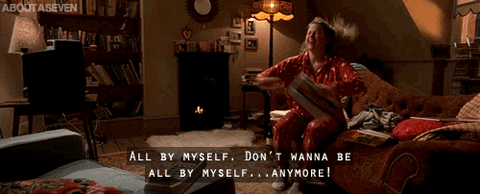 On a related note – my running buddy is running the Indianapolis Marathon on November 5th and I simply CAN'T let her do it alone. 🙂